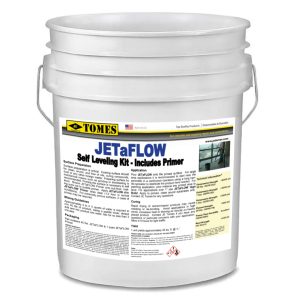 Description
JETaFLOW Cement-Based Mix is a heavy duty 1 component polymer modified self-leveling underlayment, concrete repair, and resurfacing mortar. JETaFLOW Self-Leveling Cement-Based Mix is simply mixed with water and applied from featheredge to 1″ thick in one application. Product is ready for light traffic in 4-5 hours at 70 degrees Fahrenheit.
Dependable and Durable
• Heavy duty – Over 6000 psi
• One component – Just add water
• No troweling – Self leveling
• Portland Cement based

• Polymer modified
• Pumpable
• Custom colors available
• Short wait for foot traffic
Where to Use
• Unleveled concrete
• As an underlayment
• As a wear surface
• Interior or exterior surfaces

• Warehouse floors
• With radiant heat flooring
• Decorative flooring
Components
JETaFLOW Self-Leveling Mortar Mix is a special blend of cements, aggregates and exclusive modifiers. Designed for general purpose and high performance underlayment, concrete repair or resurfacing applications.
Application
Pour JETaFLOW onto the primed surface. To break surface tension a porcupine roller is recommended. For large area applications it is recommended to start near the perimeter in a continuous operation using a long handle spreader to distribute the product where needed. For patching application, pour material into primed area to level. For applications over 1″ use JETaFLOW High Build. Apply to primed, clean sound substrates only. Contact JE Tomes for any questions.
Grainger Order Number  15F509
Packaging and Yield
Unit Size
Approx. yield

50 lb. Heavy duty polyethylene bag
Also available: Kit with 40 lb.
powder and 1 gal. primer

50 sq. ft. @1/8"